Panic disorder is a condition that causes sudden and intense episodes of fear, anxiety, and physical symptoms. These episodes, called panic attacks, can make you feel like you're losing control, having a heart attack, or even dying. Panic disorder can interfere with your daily life, making you avoid situations that might trigger a panic attack.
But you don't have to suffer in silence. There are many ways to cope with panic disorder, including therapy, medication, and lifestyle changes. And one of the easiest and most accessible ways is to use apps for Panic Attacks.
Apps can help you manage panic disorder by providing tools such as breathing exercises, meditation, guided imagery, self-help techniques, and more. They can also help you track your mood, monitor your symptoms, and learn more about your condition. Some apps even offer online therapy or peer support.
But with so many apps out there, how do you choose the best one for you? Well, that depends on your personal preferences, needs, and goals. But to help you get started, we've rounded up some of the best apps for panic disorder based on user reviews, features, and expert recommendations.
Best Apps for Panic Disorder
Breathe2Relax: This app offers different breathing tools along with instructions and videos, which can help reduce stress and manage anxiety.
MoodMission: This app has a clever system. You tell it how you're feeling, it then provides you with an easy, short mission to improve your mood based on cognitive behavioral therapy (CBT).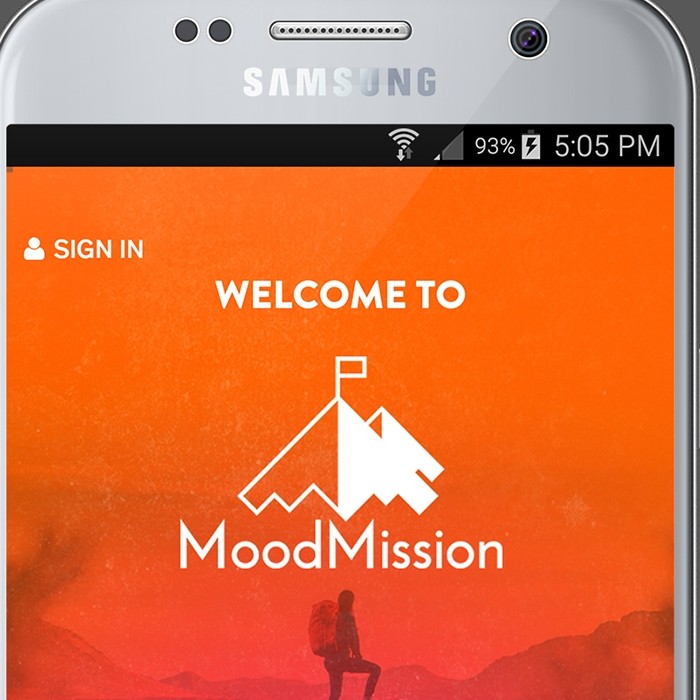 Rootd: This app can help you manage anxiety and panic attacks using a combination of breathing exercises, meditations, and visualizations. It also has an emergency button that guides you through a panic attack step by step. You can also access lessons on the causes and effects of panic disorder, as well as tips on how to prevent and cope with it. Rootd is free to download and use, but you can upgrade to a premium version for more features and content.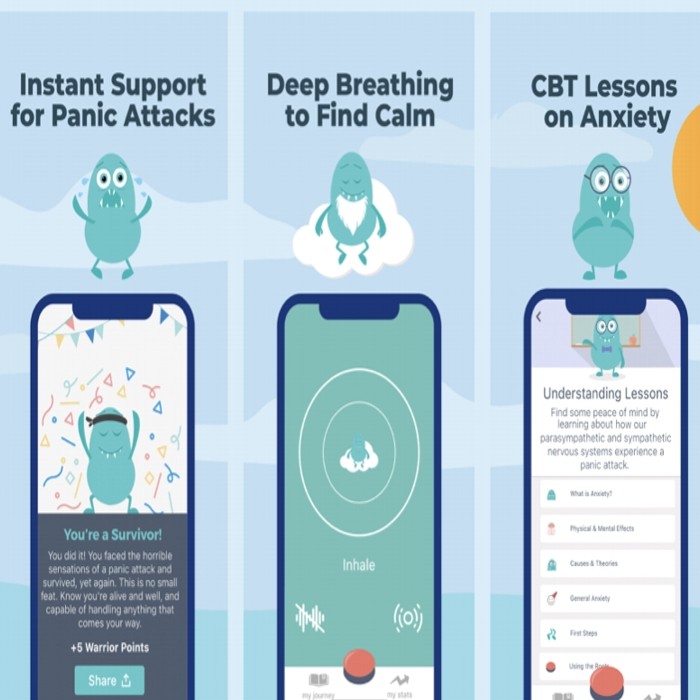 Dare: This app provides a training program to help you relieve anxiety and panic. It teaches you how to face your fears instead of avoiding them, using techniques based on exposure therapy and acceptance and commitment therapy (ACT). You can also listen to audio guides that help you calm down during a panic attack or a stressful situation. Dare is free to download and use, but you can upgrade to a premium version for more features and content.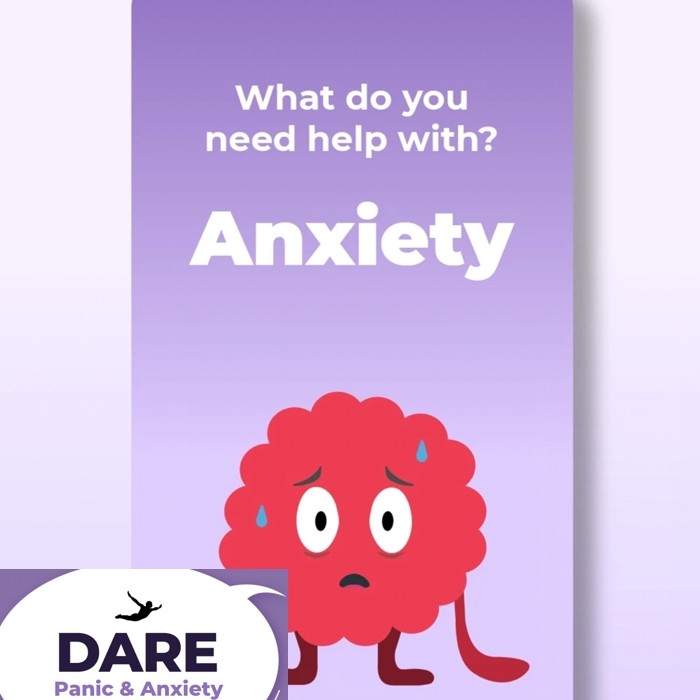 Headspace: This app is one of the most popular meditation apps in the world. It can help you reduce anxiety and stress by teaching you how to practice mindfulness and meditation. You can choose from hundreds of guided meditations on various topics, such as sleep, focus, happiness, and more. You can also join live sessions with other users or listen to soothing music and sounds. Headspace is free to download and use for the first 10 sessions, but you need a subscription to access the full library of content.
Acupressure: Heal Yourself: This app teaches you how to use acupressure to relieve anxiety and stress. Acupressure is a technique that involves applying pressure to specific points on your body to stimulate the flow of energy and promote healing. You can learn how to locate and massage these points using diagrams and videos. You can also choose from different categories of acupressure points based on your needs, such as relaxation, headache relief, or digestion improvement.
Stop Panic & Anxiety Self-Help: This app provides a range of tools to help you manage anxiety and panic attacks. It includes audio tracks that guide you through relaxation exercises, cognitive behavioral therapy (CBT) techniques, positive affirmations, and more. It also has a diary where you can record your thoughts and feelings, as well as a panic assistance audio that helps you cope with a panic attack. Stop Panic & Anxiety Self-Help is free to download and use.
Sleep Time: This app is a sleep tracking app that can help you get better sleep, which can help reduce anxiety and stress. It uses your phone's microphone and accelerometer to monitor your sleep cycles and quality. It also provides an alarm that wakes you up at the optimal time based on your sleep patterns. You can also listen to relaxing sounds or music to help you fall asleep or nap. Sleep Time is free to download and use, but you can upgrade to a premium version for more features and content.
ReachOut Worry Time App: This app can help you control everyday worries and anxieties by setting aside a specific time each day to deal with them. You can use the app to record your worries throughout the day, then review them during your worry time. The app helps you identify which worries are worth your attention and which ones are not. It also gives you tips on how to challenge negative thoughts and cope with stress. ReachOut Worry Time App is free to download and use.
myCompass: This app provides a personalized online self-help program for people with mild to moderate anxiety, depression, or stress. You can complete interactive activities, quizzes, and feedback sessions that help you understand and manage your emotions and behaviors. You can also set goals and track your progress using graphs and charts. myCompass is free to download and use, but you need to register with an email address to access the program.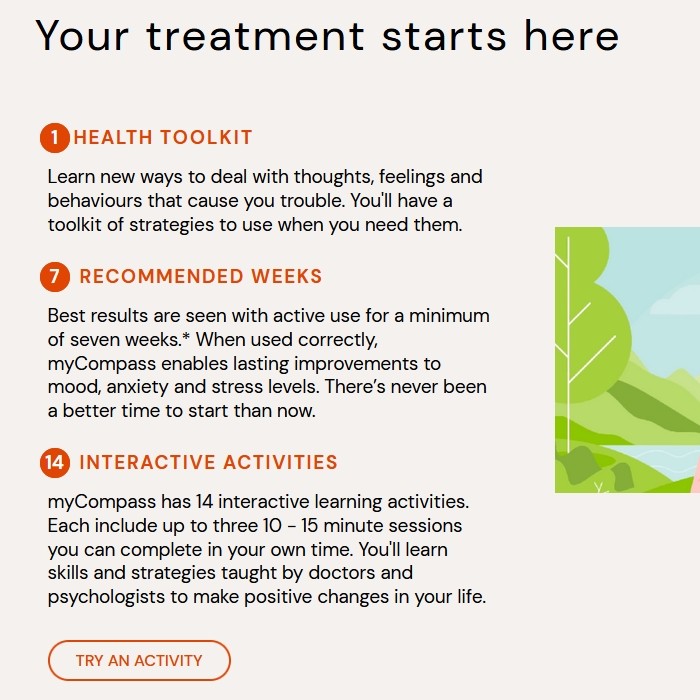 Mood Mechanic Course: This app helps young adults aged 18 to 25 years to manage symptoms of depression and anxiety. It consists of four online modules that teach you CBT skills, such as identifying and challenging negative thoughts, coping with emotions, and problem-solving. You can also access online forums where you can chat with other users and get support from mental health professionals. Mood Mechanic Course is free to download and use, but you need to register with an email address to access the course.
How to Choose the Best App for You
When choosing an app for panic disorder, there are some factors you might want to consider, such as:
Your goals: What do you want to achieve by using the app? Do you want to learn new skills, track your symptoms, get support, or something else?
Your preferences: What kind of app do you enjoy using? Do you prefer audio, video, text, or interactive content? Do you like gamified, colorful, or minimalist designs?
Your budget: How much are you willing to spend on the app? Do you prefer a free app, a one-time purchase, or a subscription model?
Your privacy: How secure is the app? Does it protect your personal data and comply with privacy laws? Does it share your information with third parties or advertisers?
Your compatibility: How well does the app work with your device and operating system? Does it require internet access or offline mode? Does it have any technical issues or bugs?
You can also read user reviews, ratings, and testimonials to get a sense of how other people have benefited from the app. You can also consult your doctor or therapist for their recommendations.
Tips for Using Apps for Panic Disorder
Apps for panic disorder can be helpful tools, but they are not magic bullets. To get the most out of them, you might want to follow some tips, such as:
Use them regularly: To see results, you need to use the app consistently and follow the instructions. Try to set aside some time each day or week to use the app and stick to it.
Use them as a supplement: Apps are not a substitute for professional help. If you have panic disorder or any other mental health condition, you should seek treatment from a qualified mental health provider. Apps can be used as a complement to therapy, medication, or both.
Use them wisely: Apps are not meant to diagnose or treat any medical condition. If you experience severe or persistent symptoms of anxiety or panic, such as chest pain, shortness of breath, fainting, or suicidal thoughts, you should seek emergency medical attention. Apps are not a replacement for emergency care.
Use them with caution: Apps may not be suitable for everyone. Some people may find certain apps triggering, upsetting, or ineffective. If you feel uncomfortable or worse after using an app, you should stop using it and talk to your doctor or therapist.
FAQs
Q: Are apps for panic disorder effective?
A: There is some evidence that apps for panic disorder can be effective in reducing anxiety and panic symptoms. However, the effectiveness may vary depending on the quality of the app, the type of intervention, the user's engagement, and other factors such as anxiety relief, decrease in moments of panic and to treat anxiety without medication. More research is needed to determine the best practices and standards for developing and evaluating apps for panic disorder.
Q: Are apps for panic disorder safe?
A: Most apps for panic disorder are safe to use as long as they are used appropriately and responsibly. However, some apps may have potential risks or limitations, such as inaccurate information, privacy breaches, technical glitches, or adverse effects. You should always check the credibility and reputation of the app developer before downloading or using an app. You should also read the terms and conditions and privacy policy of the app carefully.
Q: How do I know if I have panic disorder?
A: Panic disorder is diagnosed by a mental health professional based on your symptoms, history, and evaluation. The main criteria for panic disorder are:
Having recurrent unexpected panic attacks
Having recurrent unexpected panic attacks can be a debilitating experience that significantly impacts one's quality of life. Panic attacks are characterized by sudden and intense feelings of fear and distress, often accompanied by physical symptoms such as rapid heart rate, shortness of breath, and sweating. They can occur without any apparent trigger, making them even more distressing for individuals who experience them. Fortunately, there are various apps available that can help manage and alleviate the symptoms of panic attacks. These apps provide a range of tools and techniques, such as guided breathing exercises, calming music, and mindfulness meditation sessions. By utilizing these apps, individuals can learn to recognize the early signs of a panic attack and employ coping strategies to reduce its severity and duration. Additionally, many of these apps offer features like progress tracking and journaling to monitor an individual's panic attack patterns and triggers. Overall, using these apps can empower individuals with recurrent unexpected panic attacks to regain control, minimize their anxiety, and ultimately improve their overall well-being.
Extreme feelings of stress and anxiety
Extreme feelings of stress and anxiety can be overwhelming and debilitating. The constant worry, racing thoughts, and grip of panic can make it challenging to function in daily life. However, there are several apps available that can provide support and assistance during panic attacks. One highly recommended app is Calm. It offers guided meditations, breathing exercises, and soothing music to help calm the mind and alleviate anxiety. Another useful app is Headspace. It provides mindfulness and meditation techniques to manage stress and anxiety effectively. Additionally, Pacifica is an app that offers tools, such as mood tracking and relaxation exercises, to help individuals identify and manage their triggers. Lastly, Stop Panic & Anxiety Self-Help is an app that provides practical strategies and techniques to confront and overcome panic attacks. These apps can offer a sense of control and provide individuals with the tools they need to navigate through moments of extreme stress and anxiety.
Worrying about having more panic attacks or their consequences
The fear of experiencing more panic attacks or their consequences can further exacerbate anxiety and create a vicious cycle of worry. It is normal to feel anxious about the possibility of panic attacks recurring, as the symptoms can be incredibly distressing and overwhelming. However, there are various anxiety management and coping strategies that can help individuals navigate through their fears. Treatment options such as cognitive behavioral therapy (CBT) can be highly effective in helping individuals understand and manage their anxiety. Breathing techniques, meditation, and relaxation techniques can also aid in reducing anxiety and promoting relaxation. Additionally, there are several mobile apps available that specifically target panic attacks and offer guidance on managing symptoms. These apps provide users with useful tools, such as breathing exercises and relaxation techniques, to alleviate anxiety and promote overall well-being. It is essential to remember that with the right resources and support, individuals can develop effective strategies to cope with and overcome their fears surrounding panic attacks.
Changing your behavior or avoiding situations because of panic attacks
Experiencing high levels of anxiety often leads to panic attacks which result in severe physical and emotional distress. Stress, one of the key triggers of a panic attack, exacerbates panic attack symptoms such as racing heart, trembling, shortness of breath, and a feeling of impending doom. In battling anxiety and panic attacks, employing coping strategies is vital. Anxiety management strategies include employing Cognitive Behavioral Therapy (CBT) – a form of treatment that focuses on altering thinking and behavior patterns that lead to anxiety. Breathing techniques and relaxation techniques are also beneficial to calm the mind and body, these can be learned through meditation. Practicing mindfulness meditation, in particular, not only eases anxiety but also equips individuals with the ability to handle stress better. To enable effective treatment and management of panic attacks, it's also crucial to identify and avoid situations or triggers that incite anxiety, as a preventative measure. There are also several Apps available to help manage panic attacks, providing quick access to useful tools and resources.